Sabroso Tex Mex - Take Away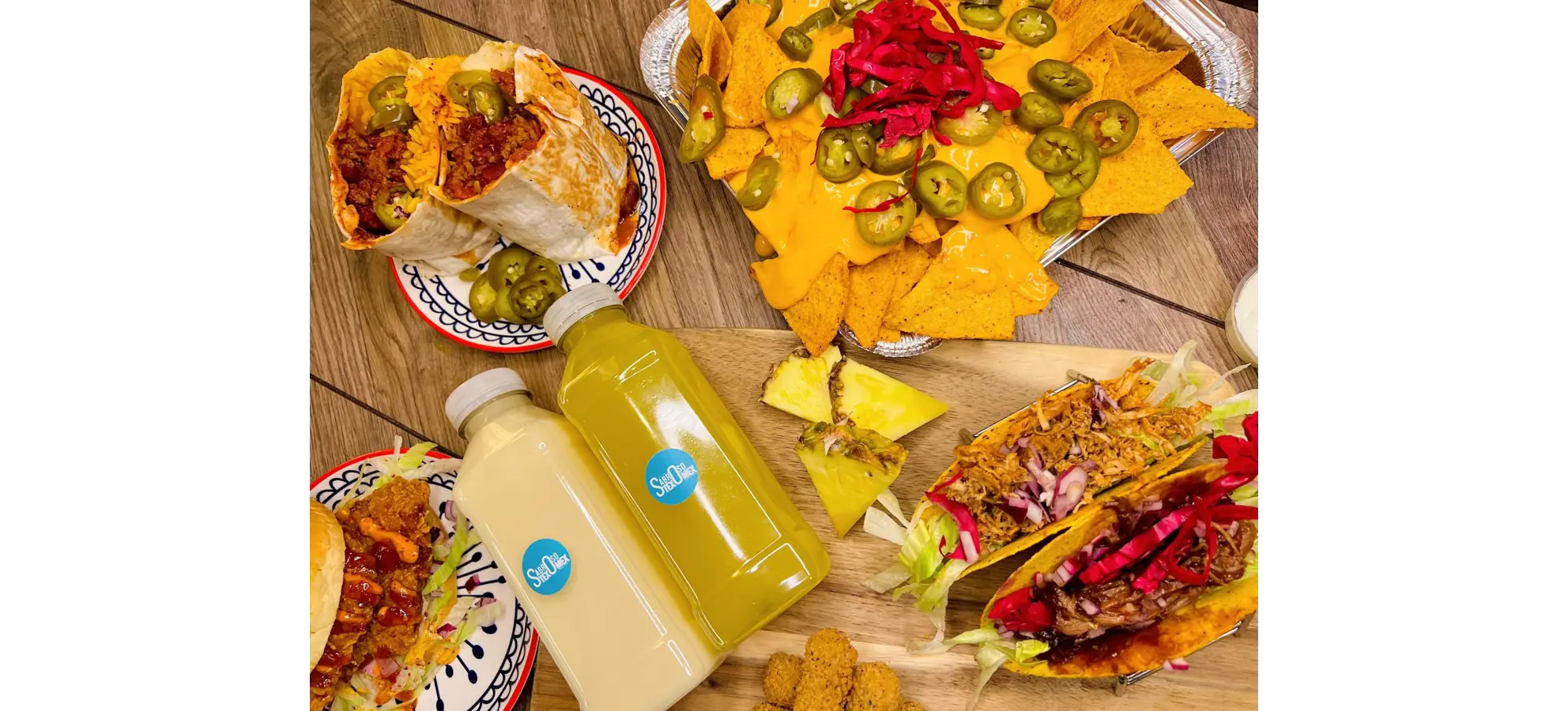 Sabroso Tex Mex - Take Away
Menu Sabroso Tex Mex - Take Away
We have a lot of delicious dishes in our menu: chilli dishes, fajitas, burritos, quesadilla rolls, tacos, nachos, burgers, and hot dogs. Burrito is a Mexican dish consisting of a soft wheat cake with a variety of fillings wrapped around it. For example, in our menu is popular burrito stuffed with rice, spices, turtle beans, Monterey Jack cheese, soured cream, and guacamole. Fajita is a dish similar to burrito; it consists of tortilla and chopped meat with fresh and juicy vegetables. Burgers in our menu are spicy and incredibly tasty with chili and Mexican spices. Taco is a dish of Mexican cuisine, representing a folded in two corn tortilla, with a filling. In our restaurant for the filling we use meat, cheese and chili. Nachos is a snack of Mexican cuisine, which are small crispy corn tortillas with various additives. In our takeaway restaurant you can taste delicious tacos and nachos cooked by our experienced cooks. We are a restaurant type that mainly serves Mexican cuisine dishes, but you can also order various desserts, sides, and kid meals. Also be sure to try our signature dishes, among them you can order Chicken Tinga Quesadilla Roll, Chilli Beef with Baked Potato Wedges, and BBQ Chicken Burger.
About Sabroso Tex Mex - Take Away
Mexican cuisine has a Spanish stem, a French zest and a little bit of African influence. Fajitas, quesadilla rolls and tacos are the famous dishes and top sellers in the menu of our restaurant. Mexican cuisine cannot exist without chili peppers and spice mixes, which are present in our restaurant to spice up your experience. Trying our dishes, you will feel the real Mexican taste and Mexican atmosphere.
In our restaurant you can taste authentic Mexican dishes filled with a spicy aroma of spices prepared by professional cooks according to traditional Mexican recipes. Our dishes are prepared from organic products and fresh meat. Fast service and our delicious cuisine will leave only bright and unforgettable memories!
Restaurant location Sabroso Tex Mex - Take Away
You can find our takeaway restaurant in the city of St Helens. We are located on the 23-27 George Street St. Helens, WA10 1DA. You can make an order directly on our website or with help of a mobile app. You can easily download it from App Store or Google Play.